The labor circle in south Korea launched regular struggle in winter with the beginning of general strike of the Public Transportation Trade Union affiliated to the National Trade Union on 23, Nov.
The National Trade Union had a press conference in front of the National Assembly to declare all-out struggle for the general strike and hardened their determination to perform a task of the times mobilizing 1.1 million members.
It is expected that the Public Transportation Trade Union would hold a joint strike against the government till the 2nd of next month in which 13 trade unions are said to participate.
The trade unions including Seoul Grand Hospital and Boramae Hospital declared an overall strike and the headquarters of Cargo Transportation Solidarity shall go on an all-out general strike for an indefinite period.
The trade unions of Seoul Traffic Company, operating subway, has declared no-time-limit strike from the coming 30th and the trade union of National Railway is expected to begin a general strike from the 2nd of next month.
Recently, National Education Solidarity for Part-time Workers held a press conference at the National Trade Union to declare a general strike and disclosed that 50 thousand part-time workers would hold meetings for strike.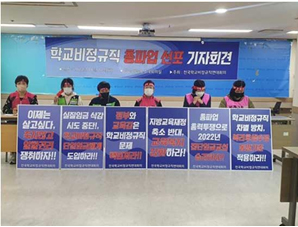 Press conference for declaration of general strike of the National Education Solidarity for Part-time Workers