Of late, the people's action for the abolition of the National Security Law had a press conference to strongly demand suspension of suppression of the police and repeal of the National Security Law.
The police authorities searched the houses of the progressive figures indiscriminately. The purpose of the suppression is to escape from political crisis to choke the public demand for the right to live, the abolition of the NSL and democracy against inability and suppression of the Yoon Suk-yeol regime, it censured.
The Yoon administration must stop suppression of the police against the organizations after Yoon came into power, rescind the draconian "NSL" which has been used as a mean to turn deaf ear to the people's demand and to maintain the regime, the participants expressed at the news conference saying that the south Korean people will overthrow the Yoon regime if it keeps suppression against the organizations.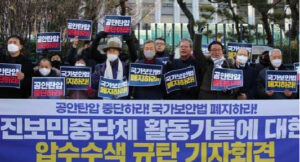 Stop suppression of the police! Repeal the National Security Law!